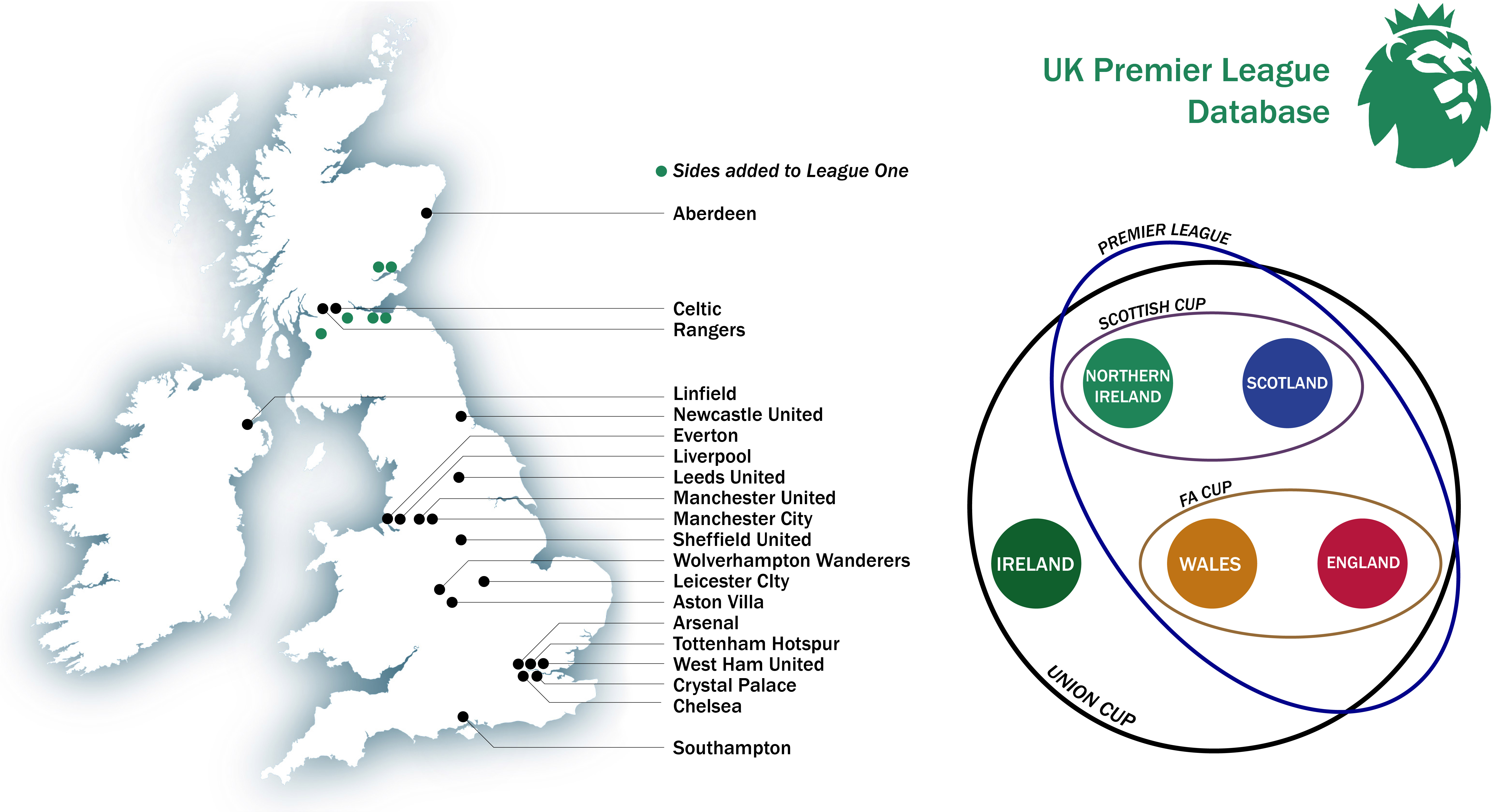 To use this database, I recommend simply loading the 'UNION' save game, but you could also load or edit the editor files yourself if you choose.
The primary change in this database is the addition of Rangers, Celtic, Aberdeen and Linfield to the Premier League, and Hearts, Hibs, Kilmarnock, Motherwell, Dundee and Dundee Utd to League 1. Other English sides have been reshuffled (relegated) to accommodate this*.
The top 6 in England all lose £50m which is then redistributed amongst the sides entering the English system, to compensate for the fact that their existing teams were built for a weaker competition. Reputations have also been adjusted for fairness, and I had to add a few players to the Linfield squad, otherwise they fail to score a single point in their first season. To be honest, I've messed around a bit with several teams and players to even things out. You may find that the usual wonderkids are no longer so, for example.
Wales, Scotland and NI all now have clubs in the English League system as well as domestic leagues of their own, so a new international club competition has been created with clubs from across the British Isles given the chance to play one another. The full format is below**, but essentially its a simple knockout tournament with Premier League teams entering in the third or fourth round depending on their League position at the time of the draw. The first round is regionalised with Irish and NI teams (including Linfield, if they're in the Championship or below) playing one another. The semi-finals are held in Glasgow and Dublin with the final in Cardiff. This provides smaller sides from the home nations the chance to play Premier League and Football League clubs.
This replaces the EFL Cup in England***, but each of the other nations keeps all of their domestic competitions in addition to this. In Scotland, the clubs in the English League system (Celtic ect.) participate in the Scottish Cup, with the FA Cup only for English (and Welsh) clubs. This means some Championship and National League sides enter the FA Cup later than they otherwise would. Linfield also enter the Scottish Cup to even the numbers. The Betfred Cup remains for Scottish league clubs only but Celtic and Rangers will still participate in the first season. Teams still participate in their own nation's U18 system but the FA Youth Cup has been expanded to include teams from each of the home nations.
The SPFL Trust Trophy provides another opportunity for sides from across the British Isles to play one another, and finally a friendly tournament has been created for Linfield and the top NI clubs each year.
Finally, Linfield have a new logo and kits to help shed its sectarian reputation and become a club that can represent all of Belfast. Aberdeen, Dundee and Kilmarnock also have new kits as the existing ones don't offer enough variety when playing away.
Please let me know if there are any issues with this- I'll look to resolve as soon as I can.
*The 9 Scottish clubs were chosen based on their perceived reputations, their stadiums, and their rivalries with one another. English clubs were relegated based on a similar criteria, although I'll admit to cherry picking some clubs I particularly dislike (Ie. Salford and Fleetwood which have been bankrolled way beyond their natural level).
**Union Cup format:
Round 1 West: NI Premiership (12) + ROI Premier Division (10)= 22 teams, 11 games
Round 1 East: Welsh Premier (12) + Scottish Championship and Premiership (22) + English League 2, League 1 and Championship (72)= 106 teams, 53 games
Round 2: All Round 1 winners= 64 teams, 32 games
Round 3: All Round 2 winners + English Premier League (Bottom 8)= 40 teams, 20 games
Round 4: All Round 3 winners + English Premier League (Top 12)= 32 teams, 16 games
Round 5: 16 teams, 8 games
Quarter Finals: 8 teams, 4 games
Semi Finals: 4 teams, 2 games
Final: 2 teams, 1 game
***The EFL Cup could easily be reinstated or changed to a different format, but I'm not sure what this would be.
Help needed: There is one key thing I have not been able to do with this, and I'd still like to if possible. Its a question I've seen asked plenty of times but I've never seen an answer.
How can I access the advanced rules of all European club competitions, so that I can change which teams qualify for the Champions League, Europa League, ect. ?

I am aware that by assigning the Champions League a nation you can edit the nation's rules and and see the advanced CL rules that way, but this doesn't include the qualification system which allocates CL and EL spaces to each country. Effectively I want to adjust the number of qualification spaces allocated to each coefficient position.

I'd also like to avoid remaking the full system from scratch.

My plan is to reassign Champions League spots from the Welsh, Scottish and NI premier to the English leagues. It doesn't seem fair that tiny TNS get a Champions League spot whilst two of the big six miss out each season. Instead, the smaller countries could receive additional Europa Conference spaces.
You'll need to Login to comment