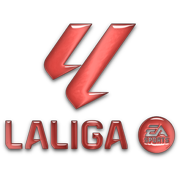 Espanyol are a team in Football Manager 2018. Espanyol play in the Spanish First Division in Spain in FM 18. Espanyol are a playable team in FM2018.
Name

Espanyol

Nation

Spain

Division

Spanish First Division

Average Age

Balance

£9m

Wage Budget

£39k

Training Facilities

Superb

Youth Facilities

Great

Youth Academy

Good

Youth Recruitment

Limited

Stadium Capacity

25,000

Average Attendance

20,100

Ability

75%

Potential

78%
Espanyol Newgen Rating
Great
Newgens are the new players that the game generates and join the club on Youth Intake Day. The Newgens produced by Espanyol will be Great
Espanyol Transfers
Looking for players to buy for Espanyol in Football Manager 2018?
This is a guide to managing Espanyol in FM18. If you want to play Football Manager 2018 with an updated Espanyol squad featuring all the latest real world transfers then you should download the sortitoutsi FM18 Update which updates the Football Manager 2018 database with all the latest transfers, updated squads and promotions and relegations. It's the best Football Manager 2018 Data Update you can download.
All Espanyol Players in Football Manager 2018
| | Name | Age | Position | Wage | Value | Cost | Expires | Rating | Potential |
| --- | --- | --- | --- | --- | --- | --- | --- | --- | --- |
| | Diego López | 35 | GK | £75k | £2m | £3m | 30-06-2020 | | |
| | Pablo Piatti | 28 | AM RLC | £56k | £13m | £22m | 30-06-2020 | | |
| | Gerard Moreno | 25 | ST | £39k | £12m | £20m | 30-06-2020 | | |
| | David López | 27 | D C, DM | £24k | £11m | £19m | 30-06-2020 | | |
| | Léo Baptistão | 24 | AM RLC, F C | £33k | £10m | £17m | 30-06-2021 | | |
| | Víctor Sánchez | 29 | D/WB R, DM | £25k | £8m | £13m | 30-06-2021 | | |
| | Sergi Darder | 23 | DM | £32k | £10m | £30m | 30-06-2018 | | |
| | Carlos Sánchez | 31 | D C, DM | £38k | £7m | £15m | 30-06-2018 | | |
| | Sergio García | 34 | AM RLC, F C | £24k | £1m | £2m | 30-06-2018 | | |
| | José Manuel Jurado | 30 | AM LC | £35k | £4m | £6m | 30-06-2018 | | |
| | Pau López | 22 | GK | £34k | £5m | £6m | 30-06-2018 | | |
| | Oscar Duarte | 28 | D C | £11k | £3m | £4m | 30-06-2019 | | |
| | Aarón Martín | 20 | D/WB L | £11k | £3m | £8m | 30-06-2022 | | |
| | Marc Roca | 20 | DM | £10k | £2m | £6m | 30-06-2022 | | |
| | Naldo | 28 | D C | £11k | £2m | £3m | 30-06-2020 | | |
| | Esteban Granero | 29 | AM C | £12k | £3m | £2m | 30-06-2020 | | |
| | Dídac Vilà | 28 | D/WB L | £10k | £2m | £3m | 30-06-2020 | | |
| | Javi López | 31 | D/WB R, M RC | £10k | £1m | £1m | 30-06-2018 | | |
| | Mario Hermoso | 22 | D LC | £11k | £3m | £6m | 30-06-2020 | | |
| | Sergio Sánchez | 31 | D RC | £15k | £2m | £2m | 30-06-2018 | | |
| | Óscar Melendo | 19 | AM RC | £6k | £1m | £3m | 30-06-2022 | | |
| | Marc Navarro | 21 | D/WB/AM R | £7k | £1m | £2m | 30-06-2021 | | |
| | Jairo Morillas | 23 | ST | £8k | £798k | £817k | 30-06-2018 | | |
| | Lluís | 20 | D C | £320 | £15k | £27k | 30-06-2018 | | |
| | Álex López | 20 | M C | £2k | £286k | £507k | 30-06-2022 | | |
| | Pol Lozano | 17 | DM | £1k | £237k | £598k | 30-06-2020 | | |
| | Carlos Doncel | 20 | AM L | £830 | £45k | £78k | 30-06-2019 | | |
| | Manel Royo | 23 | D C | £2k | £162k | £147k | 30-06-2018 | | |
| | Iago Indias | 21 | D C, DM | £1k | £180k | £255k | 30-06-2019 | | |
| | Álex Salto | 20 | D C | £1k | £160k | £266k | 30-06-2019 | | |
| | Joselu | 26 | ST | £2k | £92k | £34k | 30-06-2018 | | |
| | Mateo Stamatov | 18 | D/WB L | £440 | £36k | £72k | 30-06-2019 | | |
| | Daniel Wong | 19 | ST | £700 | £55k | £98k | 30-06-2018 | | |
| | Aitor Granados | 23 | D/WB L | £870 | £26k | £13k | 30-06-2018 | | |
| | Max Marcet | 20 | AM RL, ST | £1k | £55k | £85k | 30-06-2018 | | |
| | Álex Domínguez | 19 | GK | £320 | £28k | £48k | 30-06-2018 | | |
| | Arnau Gaixas | 18 | D C | £580 | £33k | £66k | 30-06-2018 | | |
| | Adri | 18 | GK | £300 | £27k | £52k | 30-06-2018 | | |
| | Cristo | 20 | ST | £710 | £36k | £53k | 30-06-2018 | | |
| | Genís Montolio | 20 | D RC | £1k | £170k | £283k | 30-06-2019 | | |
| | Javi Puado | 19 | ST | £640 | £42k | £71k | 30-06-2020 | | |
| | Albert Alavedra | 18 | D C | £540 | £31k | £60k | 30-06-2018 | | |
| | Adrià Pedrosa | 19 | D/WB L | £680 | £40k | £68k | 30-06-2019 | | |
| | Jaume Villar | 19 | D C | £570 | £30k | £50k | 30-06-2018 | | |
| | Antonio Pelegrín | 22 | D C | £870 | £30k | £30k | 30-06-2018 | | |
| | Álex Bermejo | 18 | AM C | £560 | £32k | £61k | 30-06-2018 | | |
| | Víctor Gómez | 17 | D/WB R | £470 | £26k | £55k | 30-06-2018 | | |
| | Izan Checa | 18 | M C | £570 | £29k | £55k | 30-06-2018 | | |
| | Xavi Manrique | 18 | D C, DM | £490 | £22k | £41k | 30-06-2018 | | |
| | Dani Reina | 18 | D/WB R | £510 | £21k | £39k | 30-06-2018 | | |
| | Jordan | 18 | AM R | £520 | £27k | £49k | 30-06-2019 | | |
| | Pol Hernández | 18 | D/WB L | £470 | £19k | £34k | 30-06-2018 | | |
| | Ferrán Brugué | 17 | ST | £460 | £20k | £41k | 30-06-2018 | | |
| | Carlos Gilbert | 18 | ST | £310 | £25k | £45k | 30-06-2019 | | |
| | Edu Frías | 18 | GK | £70 | £19k | £34k | 30-06-2019 | | |
| | Saúl Coco | 18 | AM C | £450 | £20k | £37k | 30-06-2018 | | |
| | Bruno | 17 | D RC | £420 | £17k | £35k | 30-06-2018 | | |
| | Yaroslav Meykher | 16 | GK | £180 | £15k | £32k | 30-06-2018 | | |
| | Pipa | 19 | D/WB R | £400 | £14k | £21k | 30-06-2018 | | |
| | Bangaly Diakhaby | 18 | AM L, ST | £410 | £16k | £29k | 30-06-2018 | | |
| | Marc Manchón | 19 | DM | £410 | £16k | £24k | 30-06-2018 | | |
---
Espanyol Loaned Out Players in FM18
Players out on loan from Espanyol in Football Manager 2018
| | Name | Age | Position | Wage | Value | Cost | Expires | Rating | Potential |
| --- | --- | --- | --- | --- | --- | --- | --- | --- | --- |
| | Hernán Pérez | 28 | AM RL | £20k | £6m | £9m | 30-06-2019 | | |
| | Álvaro Vázquez | 26 | ST | £15k | £2m | £2m | 30-06-2018 | | |
| | Roberto | 31 | GK | £18k | £8m | £14m | 30-06-2018 | | |
---
Espanyol Staff in Football Manager 2018