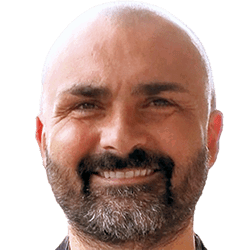 Name

Raffaele Biancolino

Age

40

Nationality

Italy

Contracted Club

Free Agent

Club Job

Club Contract Type

Full-Time

Wage
Judging Player Ability

5

Judging Player Potential

5

Manager Rating

31

Assistant Rating

29.9

Coach Rating

30.6

Scout Rating

23.4

Physio Rating

28.1

Strength Training

21

Aerobic Training

21

GK Handling Training

21

GK Shot Stopping Training

21

Tactics Training

33

Ball Control Training

31

Defending Training

33

Attacking Training

31

Shooting Training

30

Home Rep

1

World Rep

1

Current Rep

1
This is a preview of what Raffaele Biancolino looks like in FM19. Raffaele Biancolino may be updated and look different if you are using the sortitoutsi FM19 Transfer Update which updates the Football Manager 2019 database with all the latest transfers, updated squads and promotions and relegations. If you haven't tried it yet, check it out, t's the best Football Manager 2019 Update you can download.
What nationality is Raffaele Biancolino in FM2019?
Raffaele Biancolino is

Italian
in Football Manager 2019.
How old is Raffaele Biancolino?
Raffaele Biancolino is 40 Years, 10 Months and 13 Days Old at the start of Football Manager 2019. He was born on 14th August 1977.