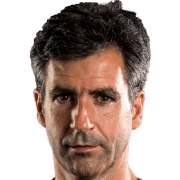 Name

Toni Borrell

Age

47

Nationality

Spain

Contracted Club

Espanyol

Club Job

Coach (First Team)

Club Contract Type

Full Time

Wage

£6k
Judging Player Ability

0

Judging Player Potential

0

Manager Rating

70.1

Assistant Rating

69.6

Coach Rating

70.5

Scout Rating

67.4

Physio Rating

24.7

Strength Training

61

Aerobic Training

61

GK Handling Training

46

GK Shot Stopping Training

52

Tactics Training

62

Ball Control Training

64

Defending Training

66

Attacking Training

66

Shooting Training

67

Home Rep

136

World Rep

106

Current Rep

136
This is a preview of what Toni Borrell looks like in FM22. Toni Borrell may be updated and look different if you are using the sortitoutsi FM22 Transfer Update which updates the Football Manager 2022 database with all the latest transfers, updated squads and promotions and relegations. It's the best Football Manager 2022 Update you can download.
What nationality is Toni Borrell in FM2022?
Toni Borrell is
Spanish
in Football Manager 2022.
How old is Toni Borrell?
Toni Borrell is 47 Years, 5 Months and 3 Days Old at the start of Football Manager 2022. He was born on 24th January 1974.
How much money does Toni Borrell earn at Espanyol?
Toni Borrell earns £6k in wages while playing for
Espanyol
in FM22.