The Backgrounds Megapack was originally made up of aerial shots of stadiums taken from Google Maps and Google Earth, but is now also containing Competitions and Player Backgrounds, as well as beautiful City Images.
67,145
2022.11 - Released on 23 Sep 2022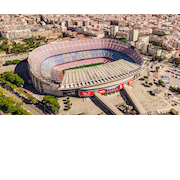 Welcome to the Submissions section of the sortitoutsi Backgrounds Megapack. Here you can contribute graphics by either uploading completed images or suggesting source images that might be an improvement on an existing image.
Have you spotted an error? You can also browse the entire collection, find the item with an error and comment directly on it.
---