Fantasy WSL: Join our Fantasy WSL competition to Win FM24. Create your team then use code "WgKmzKIU".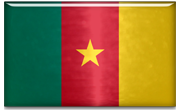 Cameroon Newgen Rating
Adequate
Newgens are the new players that the game generates and join the club on Youth Intake Day. The Newgens produced by Cameroon will be Adequate
Cameroon is a nation found in Football Manager 2014. Cameroon is also known as Les Lions Indomptables in FM2014. People from Cameroon are known as "Cameroonian" in FM 2014.
This page describes Cameroon in FM14 if you are looking for a FM14 Transfer Update? Check out our official sortitoutsi Football Manager Transfer Update to get an updated Football Manager 2014 database with all the latest squads, updated transfers and promotions and relegations.
| | Name | Total Teams | Avg Budget | Avg Age | Avg Training | Avg Youth | Avg Academy | Avg Rep | Avg Att | Avg Rating | Avg Potential |
| --- | --- | --- | --- | --- | --- | --- | --- | --- | --- | --- | --- |
| | Name | Balance | Budget | Wage | Avg Age | Avg Att | Training | Newgens | Yth Recruitment | Rating | Potential |
| --- | --- | --- | --- | --- | --- | --- | --- | --- | --- | --- | --- |
| | Coton Sport de Garoua | £237k | £112k | | | 10,000 | Adequate | Adequate | Limited | 59 | 64 |
| | Union Sportive de Douala | £106k | £24k | | | 8,000 | Below Average | Below Average | Limited | 57 | 61 |
| | Canon Sportif Yaoundé | £106k | £35k | | | 10,000 | Average | Basic | Limited | 57 | 61 |
| | Les Astres FC de Douala | £1 | £1 | | | 10,000 | Basic | Poor | Limited | 56 | 60 |
| | Panthère Sportive du Ndé | £1 | £1 | | | 800 | Poor | Poor | Limited | 53 | 58 |
| | Renaissance FC de Ngoumou | £1 | £1 | | | 800 | Poor | Poor | Limited | 51 | 58 |
| | Yong Sports Academy | | | | | 1,000 | Poor | Poor | Limited | 47 | 54 |
| | Tiko United | £237k | £106k | | | 8,000 | Basic | Basic | Limited | 42 | 44 |
| | Sable FC de Batié | £1 | £1 | | | 5,000 | Basic | Poor | Limited | 38 | 42 |
| | Unisport FC | £1 | £1 | | | 2,000 | Basic | Poor | Limited | 31 | 35 |
| | Bamboutos FC de Mbouda | £1 | £1 | | | 3,000 | Basic | Poor | Limited | 27 | 29 |
| | New Star de Douala | | | | | 0 | Poor | Poor | Limited | 26 | 27 |
| | Aigle Royal de la Menoua | £1 | £1 | | | 0 | Poor | Poor | Limited | 25 | 26 |
| | Achille FC | £1 | £1 | | | 1,000 | Poor | Poor | Limited | 21 | 23 |
| | Njalla Quan Sports Academy | | | | | 0 | Poor | Poor | Limited | 20 | 22 |
| | Mont Cameroun FC de Buéa | £1 | £1 | | | 1,000 | Basic | Poor | Limited | 19 | 19 |
| | Fovu Club de Baham | £1 | £1 | | | 3,000 | Below Average | Poor | Limited | 19 | 20 |
| | Tonnerre Kalara Club de Yaoundé | £1 | £1 | | | 5,000 | Adequate | Basic | Limited | 15 | 16 |
| | AS Matelots | £1 | £1 | | | 1,000 | Poor | Poor | Limited | 12 | 15 |
| | FC Bamenda Sports Academy | | | | | 0 | Poor | Poor | Limited | 10 | 11 |
| | AS Fortuna Yaoundé | | | | | 0 | Basic | Average | Limited | 10 | 11 |
| | Douala Athletic Club | | | | | 0 | Poor | Poor | Limited | 10 | 10 |
| | Sahel FC de Maroua | £1 | £1 | | | 3,000 | Poor | Poor | Limited | 9 | 10 |
| | Dragon de Yaoundé | | | | | 0 | Poor | Poor | Limited | 9 | 9 |
| | Dynamo Douala | £1 | £1 | | | 0 | Poor | Poor | Limited | 9 | 9 |
| | Scorpion de Mbé | | | | | 0 | Poor | Poor | Limited | 8 | 10 |
| | APEJES Football Academy | | | | | 0 | Poor | Poor | Limited | 8 | 9 |
| | Roumdé Adjia FC | £1 | £1 | | | 2,000 | Poor | Poor | Limited | 5 | 5 |
| | AS Lausanne | | | | | 0 | Poor | Poor | Limited | 5 | 5 |
| | Dynamic Buéa | | | | | 0 | Poor | Poor | Limited | 5 | 5 |