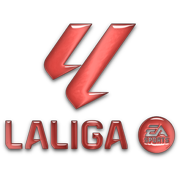 Sevilla are a team in Football Manager 2018. Sevilla play in the Spanish First Division in Spain in FM 18. Sevilla are a playable team in FM2018.
Name

Sevilla

Nation

Spain

Division

Spanish First Division

Average Age

Balance

£45m

Wage Budget

Training Facilities

Excellent

Youth Facilities

Great

Youth Academy

Good

Youth Recruitment

Limited

Stadium Capacity

46,000

Average Attendance

33,000

Ability

78%

Potential

80%
Sevilla Newgen Rating
Great
Newgens are the new players that the game generates and join the club on Youth Intake Day. The Newgens produced by Sevilla will be Great
Sevilla Transfers
Looking for players to buy for Sevilla in Football Manager 2018?
This is a guide to managing Sevilla in FM18. If you want to play Football Manager 2018 with an updated Sevilla squad featuring all the latest real world transfers then you should download the sortitoutsi FM18 Update which updates the Football Manager 2018 database with all the latest transfers, updated squads and promotions and relegations. It's the best Football Manager 2018 Data Update you can download.
All Sevilla Players in Football Manager 2018
| | Name | Age | Position | Wage | Value | Cost | Expires | Rating | Potential |
| --- | --- | --- | --- | --- | --- | --- | --- | --- | --- |
| | Steven Nzonzi | 28 | DM | £58k | £15m | £40m | 30-06-2020 | | |
| | Nicolás Pareja | 33 | D C | £43k | £5m | £12m | 30-06-2019 | | |
| | Sergio Rico | 23 | GK | £51k | £17m | £58m | 30-06-2021 | | |
| | Éver Banega | 28 | AM C | £110k | £23m | £60m | 30-06-2020 | | |
| | Guido Pizarro | 27 | DM | £57k | £15m | £39m | 30-06-2021 | | |
| | Simon Kjær | 28 | D C | £96k | £11m | £16m | 30-06-2021 | | |
| | Franco Vázquez | 28 | AM C | £65k | £15m | £14m | 30-06-2021 | | |
| | Sergio Escudero | 27 | D/WB/M L | £36k | £10m | £15m | 30-06-2019 | | |
| | Jesús Navas | 31 | AM R | £80k | £11m | £28m | 30-06-2021 | | |
| | Luis Muriel | 26 | ST | £74k | £14m | £21m | 30-06-2022 | | |
| | Daniel Carriço | 28 | D C, DM | £22k | £11m | £15m | 30-06-2018 | | |
| | Pablo Sarabia | 25 | WB L, AM RLC | £48k | £13m | £18m | 30-06-2020 | | |
| | Roque Mesa | 28 | DM, M RC | £49k | £19m | £32m | 30-06-2018 | | |
| | Sandro | 21 | AM RL, ST | £65k | £18m | £54m | 30-06-2018 | | |
| | Nolito | 30 | AM L, ST | £113k | £10m | £15m | 30-06-2020 | | |
| | Wissam Ben Yedder | 26 | ST | £40k | £10m | £13m | 30-06-2021 | | |
| | Ganso | 27 | AM C | £37k | £8m | £7m | 30-06-2021 | | |
| | Gabriel Mercado | 30 | D RC | £33k | £9m | £12m | 30-06-2019 | | |
| | Miguel Layún | 29 | D/WB RL | £29k | £6m | £8m | 30-06-2018 | | |
| | Joaquín Correa | 22 | AM LC | £31k | £7m | £13m | 30-06-2021 | | |
| | Johannes Geis | 23 | DM | £69k | £8m | £18m | 30-06-2018 | | |
| | Clément Lenglet | 22 | D LC | £10k | £2m | £4m | 30-06-2021 | | |
| | Sébastien Corchia | 26 | D/WB/M R | £16k | £5m | £6m | 30-06-2021 | | |
| | David Soria | 24 | GK | £18k | £4m | £5m | 30-06-2019 | | |
| | Guilherme Arana | 20 | D/WB L | £21k | £5m | £12m | 30-06-2022 | | |
| | Lionel Carole | 26 | D/WB L | £14k | £2m | £3m | 30-06-2018 | | |
| | Felipe Carballo | 20 | DM | £4k | £1m | £3m | 30-06-2018 | | |
| | Alejandro Pozo | 18 | AM RLC | £60 | £1m | £4m | 30-06-2019 | | |
| | Carlos Fernández | 21 | AM/F C | £4k | £983k | £2m | 30-06-2018 | | |
| | Marc Gual | 21 | ST | £3k | £899k | £2m | 30-06-2019 | | |
| | David Carmona | 20 | D/WB/AM R | £3k | £783k | £2m | 30-06-2018 | | |
| | Álex Muñoz | 22 | D LC | £3k | £944k | £2m | 30-06-2019 | | |
| | Aitor Cantalapiedra | 21 | AM RL, ST | £4k | £974k | £2m | 30-06-2019 | | |
| | José Matos | 22 | D/WB/M L | £3k | £491k | £798k | 30-06-2018 | | |
| | Giorgi Aburjania | 22 | AM C | £3k | £714k | £1m | 30-06-2020 | | |
| | Cristian González | 20 | D C | £2k | £593k | £1m | 30-06-2020 | | |
| | José Antonio Caro | 23 | GK | £2k | £405k | £535k | 30-06-2018 | | |
| | Fede San Emeterio | 20 | DM | £2k | £498k | £1m | 30-06-2019 | | |
| | Borja San Emeterio | 20 | D/WB R | £2k | £407k | £869k | 30-06-2019 | | |
| | Curro | 21 | AM RLC | £2k | £467k | £864k | 30-06-2018 | | |
| | Fabrice Ondoa | 21 | GK | £1k | £226k | £408k | 30-06-2020 | | |
| | Bilal Boutobba | 18 | AM RL | £1k | £240k | £610k | 30-06-2020 | | |
| | Yan Eteki | 19 | DM | £1k | £190k | £423k | 30-06-2019 | | |
| | Genaro | 19 | DM | £820 | £237k | £528k | 30-06-2019 | | |
| | Rares Flueras | 18 | ST | £60 | £134k | £331k | 30-06-2019 | | |
| | Juanje | 22 | AM LC, F C | £1k | £146k | £209k | 30-06-2018 | | |
| | Juan Soriano | 19 | GK | £60 | £125k | £274k | 30-06-2018 | | |
| | José Mena | 19 | DM, AM C | £30 | £190k | £411k | 30-06-2018 | | |
| | Javi Pérez | 18 | D/WB R | £60 | £151k | £361k | 30-06-2019 | | |
| | Rubén Colmenero | 20 | AM RLC, F C | £870 | £85k | £158k | 30-06-2019 | | |
| | Alejandro Viedma | 18 | DM, AM C | £500 | £113k | £261k | 30-06-2018 | | |
| | Mariano Konyk | 19 | D C | £490 | £56k | £116k | 30-06-2018 | | |
| | José María Amo | 19 | D C | £70 | £130k | £269k | 30-06-2018 | | |
| | José Lara | 17 | AM LC | £60 | £68k | £172k | 30-06-2020 | | |
| | Miguel Ángel Cera | 20 | DM | £400 | £70k | £127k | 30-06-2018 | | |
| | Muhamadou Janneh | 18 | ST | £570 | £63k | £142k | 30-06-2020 | | |
| | Adriano Romero | 20 | ST | £400 | £74k | £133k | 30-06-2018 | | |
| | Samuel | 20 | GK | £220 | £50k | £89k | 30-06-2018 | | |
| | Juan Berrocal | 18 | D C | £60 | £81k | £182k | 30-06-2019 | | |
| | Pejiño | 20 | WB/AM L | £270 | £34k | £61k | 30-06-2018 | | |
| | Álvaro González | 18 | ST | £70 | £90k | £201k | 30-06-2019 | | |
| | Salvi Moya | 20 | ST | £300 | £37k | £65k | 30-06-2018 | | |
| | Miguel Martín | 20 | ST | £290 | £52k | £90k | 30-06-2018 | | |
| | Luis García | 18 | AM LC | £420 | £33k | £72k | 30-06-2018 | | |
| | Álvaro Castillero | 21 | D C | £290 | £50k | £75k | 30-06-2018 | | |
| | Juanma Capilla | 18 | D/WB L | £60 | £38k | £82k | 30-06-2019 | | |
| | Vicente | 19 | AM/F C | £30 | £45k | £85k | 30-06-2018 | | |
| | Bryan Gil | 16 | M C | £60 | £30k | £75k | 30-06-2021 | | |
| | Alfonso | 16 | GK | £60 | £25k | £62k | 30-06-2021 | | |
| | Javi Díaz | 20 | GK | £160 | £28k | £46k | 30-06-2018 | | |
| | Felipe Chacartegui | 19 | D C | £70 | £34k | £63k | 30-06-2018 | | |
| | Brian Jaén | 19 | GK | £70 | £28k | £52k | 30-06-2018 | | |
| | Carlos Fraile | 18 | AM RLC | £60 | £30k | £61k | 30-06-2019 | | |
| | Charaf | 18 | ST | £60 | £30k | £61k | 30-06-2019 | | |
| | Manuel Galán | 19 | DM, AM C | £70 | £29k | £52k | 30-06-2018 | | |
| | Javi Vázquez | 16 | D C | £60 | £27k | £66k | 30-06-2021 | | |
| | Checa | 19 | AM RL | £70 | £24k | £43k | 30-06-2018 | | |
| | Fran Nuñez | 19 | D/WB L | £210 | £23k | £42k | 30-06-2018 | | |
| | Juanra Pliego | 17 | ST | £60 | £30k | £67k | 30-06-2020 | | |
| | Jonatan Morilla | 17 | GK | £120 | £23k | £49k | 30-06-2019 | | |
| | Josema Espinar | 18 | M C | £60 | £12k | £23k | 30-06-2019 | | |
| | Miguel Candela | 18 | D L | £60 | £17k | £33k | 30-06-2019 | | |
| | Adrián Trabazo | 18 | DM, AM C | £70 | £21k | £40k | 30-06-2019 | | |
| | David Camacho | 18 | D C | £70 | £18k | £34k | 30-06-2019 | | |
| | Valentino Fattore | 16 | D LC | £40 | £370 | £830 | 30-06-2018 | | |
---
Sevilla Loaned Out Players in FM18
Players out on loan from Sevilla in Football Manager 2018
| | Name | Age | Position | Wage | Value | Cost | Expires | Rating | Potential |
| --- | --- | --- | --- | --- | --- | --- | --- | --- | --- |
| | Jorge Carrascal | 19 | AM C | £5k | £569k | £1m | 30-06-2018 | | |
| | Borja Lasso | 23 | AM RLC | £17k | £3m | £4m | 30-06-2018 | | |
| | Juan Muñoz | 21 | ST | £8k | £1m | £2m | 30-06-2018 | | |
---
Sevilla Staff in Football Manager 2018