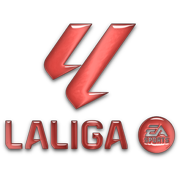 Barcelona are a team in Football Manager 2021. Barcelona play in the Spanish First Division in Spain in FM 21. Barcelona are a playable team in FM2021. Barcelona play at a stadium called "Camp Nou" in Football Manager 21.
Name

Barcelona

Nation

Spain

Division

Spanish First Division

Average Age

25.24

Balance

£28m

Wage Budget

£0

Training Facilities

Superb

Youth Facilities

Best

Youth Academy

Excellent

Youth Recruitment

Limited

Stadium Capacity

99,354

Average Attendance

75,000

Ability

86%

Potential

90%
Barcelona Newgen Rating
Superb
Newgens are the new players that the game generates and join the club on Youth Intake Day. The Newgens produced by Barcelona will be Superb
Barcelona Transfers
Looking for players to buy for Barcelona in Football Manager 2021?
Barcelona Players in FM21
All Barcelona Players in Football Manager 2021
| | Name | Age | Position | Wage | Value | Cost | Expires | Rating | Potential |
| --- | --- | --- | --- | --- | --- | --- | --- | --- | --- |
| | Lionel Messi | 33 | AM (RC), ST (C) | £1m | £49m | £58m | 30-06-2021 | | |
| | Marc-André ter Stegen | 28 | GK | £151k | £50m | £58m | 30-06-2025 | | |
| | Antoine Griezmann | 29 | AM (RLC), ST (C) | £594k | £63m | £119m | 30-06-2024 | | |
| | Miralem Pjanic | 30 | DM, M/AM (C) | £271k | £48m | £121m | 30-06-2024 | | |
| | Frenkie de Jong | 23 | D (C), DM, M (C) | £176k | £50m | £125m | 30-06-2026 | | |
| | Coutinho (Philippe Coutinho) | 28 | M/AM (LC) | £406k | £56m | £59m | 30-06-2023 | | |
| | Sergio Busquets | 32 | DM, M (C) | £271k | £31m | £300m | 30-06-2023 | | |
| | Gerard Piqué | 33 | D (C) | £110k | £16m | £300m | 30-06-2024 | | |
| | Jordi Alba | 31 | D/WB/M/AM (L) | £212k | £34m | £300m | 30-06-2024 | | |
| | Ousmane Dembélé | 23 | M/AM (RL) | £212k | £50m | £98m | 30-06-2022 | | |
| | Sergi Roberto | 28 | D/WB (R), DM, M (RC) | £176k | £37m | £34m | 30-06-2022 | | |
| | Clément Lenglet | 25 | D (C) | £101k | £28m | £25m | 30-06-2026 | | |
| | Neto (Norberto Murara Neto) | 31 | GK | £105k | £22m | £20m | 30-06-2023 | | |
| | Ronald Araújo | 21 | D (C) | £39k | £21m | £68m | 30-06-2023 | | |
| | Ansu Fati | 17 | AM (RL), ST (C) | £70k | £54m | £98m | 30-06-2022 | | |
| | Samuel Umtiti | 26 | D (C) | £212k | £21m | £19m | 30-06-2023 | | |
| | Pedri (Pedro González López) | 17 | M (C), AM (RLC) | £35k | £16m | £60m | 30-06-2024 | | |
| | Martin Braithwaite | 29 | AM (RL), ST (C) | £105k | £12m | £12m | 30-06-2024 | | |
| | Júnior Firpo (Héctor Júnior Firpo) | 23 | D/WB (L) | £105k | £11m | £6m | 30-06-2023 | | |
| | Francisco Trincão | 20 | AM (RL) | £140k | £9m | £59m | 30-06-2025 | | |
| | Sergiño Dest | 19 | D/WB (RL), M (R) | £70k | £11m | £45m | 30-06-2025 | | |
| | Moussa Wagué | 21 | D/WB (R) | £10k | £4m | £42m | 30-06-2023 | | |
| | Riqui Puig | 20 | M/AM (C) | £6k | £5m | £52m | 30-06-2023 | | |
| | Matheus Fernandes (Matheus Fernandes Siqueira) | 22 | DM, M (C) | £11k | £4m | £11m | 30-06-2025 | | |
| | Iñaki Peña | 21 | GK | £3k | £938k | £24m | 30-06-2021 | | |
---
Barcelona Loaned Out Players in FM21
Players out on loan from Barcelona in Football Manager 2021
---
Barcelona Staff in Football Manager 2021